Overview
The plantar fascia is a tough and flexible band of tissue that runs under the sole of the foot. It connects the heel bone with the bones of the foot, and acts as a kind of shock absorber to the foot. Sudden damage, or damage that occurs over many months or years, can cause tiny tears (microtears) to develop inside the tissue of the plantar fascia. This can cause the plantar fascia to thicken, resulting in heel pain. The surrounding tissue and the heel bone can also sometimes become inflamed.
Causes
Inappropriate footwear is the No. 1 cause of plantar fasciosis. Footwear that possesses toe spring and a tapered toe box holds your big toe in an adducted and extended position. In this position, your abductor hallucis muscle-the muscle responsible for moving your big toe away from your foot's midline-pulls on a foot structure called the flexor retinaculum and may restrict blood flow through your posterior tibial artery, the vessel that carries blood to the bottom of your foot. Tissues in the sole of your feet begin to degenerate as blood supply to this area is decreased. Other recognized causes of or contributors to this health problem include the following, calf muscle shortening, plantar fascia contracture, Obesity, rheumatoid arthritis, reactive arthritis, Psoriatic arthritis, Corticosteroid injections.
Symptoms
The pain associated with plantar fasciitis is typically gradual in onset and is usually located over the inner or medial aspect of the heel. Occasionally, the pain will be sudden in onset, occurring after missing a step or after jumping from a height. The pain is commonly most severe upon arising from bed in the morning, or after periods of inactivity during the day. Thus, it causes what is known as "first-step pain." The degree of discomfort can sometimes lessen with activity during the course of the day or after "warming-up", but can become worse if prolonged or vigorous activity is undertaken. The pain is also often noted to be more severe in bare feet or in shoes with minimal or no padding at the sole.
Diagnosis
Your doctor will perform a physical exam to check for tenderness in your foot and the exact location of the pain to make sure that it's not caused by a different foot problem. The doctor may ask you to flex your foot while he or she pushes on the plantar fascia to see if the pain gets worse as you flex and better as you point your toe. Mild redness or swelling will also be noted. Your doctor will evaluate the strength of your muscles and the health of your nerves by checking your reflexes, your muscle tone, your sense of touch and sight, your coordination, and your balance. X-rays or a magnetic resonance imaging (MRI) scan may be ordered to check that nothing else is causing your heel pain, such as a bone fracture.
Non Surgical Treatment
A doctor may prescribe anti-inflammatory medication such as ibuprofen to help reduce pain and inflammation. Electrotherapy such as ultrasound or laser may also help with symptoms. An X-ray may be taken to see if there is any bone growth or calcification, known as a heel spur but this is not necessarily a cause of pain. Deep tissue sports massage techniques can reduce the tension in and stretch the plantar fascia and the calf muscles. Extracorporeal shock wave therapy has been known to be successful and a corticosteroid injection is also an option.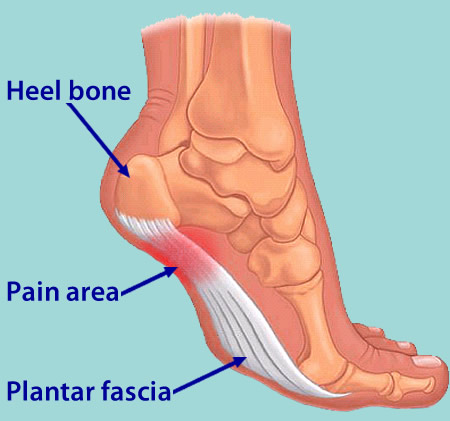 Surgical Treatment
In very rare cases plantar fascia surgery is suggested, as a last resort. In this case the surgeon makes an incision into the ligament, partially cutting the plantar fascia to release it. If a heel spur is present, the surgeon will remove it. Plantar Fasciitis surgery should always be considered the last resort when all the conventional treatment methods have failed to succeed. Endoscopic plantar fasciotomy (EPF) is a form of surgery whereby two incisions are made around the heel and the ligament is being detached from the heel bone allowing the new ligament to develop in the same place. In some cases the surgeon may decide to remove the heel spur itself, if present. Just like any type of surgery, Plantar Fascia surgery comes with certain risks and side effects. For example, the arch of the foot may drop and become weak. Wearing an arch support after surgery is therefore recommended. Heel spur surgeries may also do some damage to veins and arteries of your foot that allow blood supply in the area. This will increase the time of recovery.
Prevention
Do not walk barefoot on hard ground, particularly while on holiday. Many cases of heel pain occur when a person protects their feet for 50 weeks of the year and then suddenly walks barefoot while on holiday. Their feet are not accustomed to the extra pressure, which causes heel pain. If you do a physical activity, such as running or another form of exercise that places additional strain on your feet, you should replace your sports shoes regularly. Most experts recommend that sports shoes should be replaced after you have done about 500 miles in them.